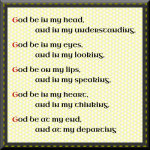 God be in my head, and in my understanding, God be in my eyes, and in my looking, God be on my lips, and in my speaking, God be in my heart, and in my thinking, God be at my end, and at my departing. from the Sarum Primer, 1538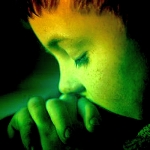 Lord in heaven, please listen to all those who are praying to you now. Those who are sad and crying, those who have lost friends and family. Those who are alone and frightened. Help them to remember, that you are there and you are listening. In Jesus' name, we pray.  Amen.
Almighty God our heavenly Father, guide the nations of the world into the way of justice and truth, and establish among them that peace which is the fruit of righteousness, that they may become the kingdom of our Lord and Saviour Jesus Christ.  Amen.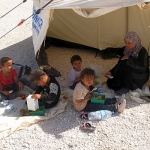 Almighty and merciful God, whose Son became a refugee and had no place to call his own; look with mercy on those who today are fleeing from danger, homeless and hungry. Bless those who work to bring them relief; inspire generosity and compassion in all our hearts; and guide the nations of the world towards [Read on…]
Lord, make me an instrument of thy peace. Where there is hatred, let me sow love. Where there is injury, pardon. Where there is discord, vision. Where there is doubt, faith. Where there is despair, hope. Where there is darkness, light. Where there is sadness, joy. O divine Master, grant that I may not so [Read on…]
Teach us, good Lord, to serve you as you deserve; to give and not to count the cost, to fight and not to heed the wound, to toil and not to seek for rest, to labour and not to ask for any reward, save that of knowing that we do your will.  Amen.
Father, I abandon myself into your hands; do with me what you will. Whatever you may do, I thank you: I am ready for all, I accept all. Let only your will be done in me, and in all your creatures – I wish no more than this, O Lord. Into your hands [Read on…]
Go forward christian soul on your journey from this world. In the name of God the Father who created you. Amen. In the name of Jesus Christ who suffered for you. Amen. In the name of the Holy Spirit who strengthens you. Amen. In communion with all the blessèd saints; with the angels and archangels [Read on…]
God grant me the serenity to accept the things I cannot change; courage to change the things I can; and wisdom to know the difference. Living one day at a time; Enjoying one moment at a time; Accepting hardships as the pathway to peace; Taking, as He did, this sinful world as it is, not [Read on…]
Leave me alone with God as much as may be. As the tide draws the waters close in upon the shore, Make me an island, set apart, alone with you, God, holy to you. Then with the turning of the tide prepare me to carry your presence to the busy world beyond, the world that [Read on…]
Thanks be to you, our Lord Jesus Christ, for all the benefits which you have given us, for all the pains and insults which you have borne for us. Most merciful Redeemer, Friend and Brother, may we know you more clearly, love you more dearly, and follow you more nearly, day by day.
As the morning mist shrouds the river and then is lifted by the gentle rays of the rising son, so may our clouded spirits be raised by the warmth of your love. Make us always mindful of your creation its fragility and its beauty. Teach us to cherish it for those who come after Through [Read on…]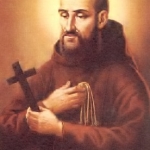 Lord, I want to love you, yet I'm not sure. I want to trust you, yet I'm afraid of being taken in. I know I need you, yet I'm ashamed of the nced. I want to pray, yet I'm afraid of being a hypocrite. I need my independence, yet I fear to be alone I want [Read on…]
My Lord God, I have no idea where I am going. I do not see the road ahead of me. I cannot know for certain where it will end. Nor do I really know myself, and the fact that I think I am following your will does not mean that I am actually doing so. [Read on…]
Late have I loved you, Beauty so ancient and so new, late have I loved you! Lo, you were within, but I outside, seeking there for you, and upon the shapely things you have made I rushed headlong, I, misshapen. You were with me but I was not with you. They held me back far [Read on…]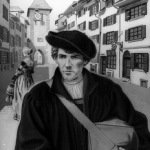 Oh, my God, how does it happen in this poor old world, that you art so great and yet nobody finds you, that you call so loudly and nobody hears you, that you are so near and nobody feels you, that you give yourself to everybody and nobody knows your name! We flee from you [Read on…]