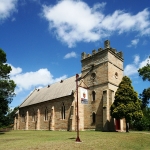 This church was built to fulfill a vow. Lieutenant Edward Close promised God that if he survived the Spanish Peninsular War he would build a church as an act of thanksgiving. Close survived, and the foundation stone was laid on January 2, 1837. The construction of sandstone walls, using locally quarried stone lined with handmade bricks, [Read on…]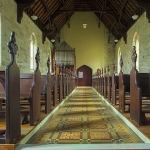 The Pews The existing cedar pews and the beautifully carved pew ends are from locally hewn cedar and were placed in the church in 1864. They have survived fire, as well as the ominous suggestions in the 1960's 'to cut off the carved tops of the pew ends' – as they blocked the view of [Read on…]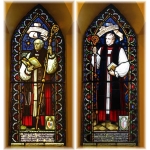 The Stained Glass Windows As well as the East window, St. James' has other fine stained glass windows. In the porch there are two stained glass windows on opposite walls which remind us of the time when St. James' was the parish church for the Bishops of Newcastle Diocese. One window is in memory of William Tyrrell, [Read on…]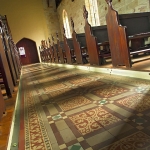 The aisle of the Nave is set with tiles from the local homestead of Duckenfield Park and were a gift from the Eales family.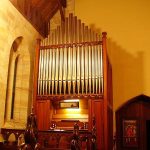 The western wall between the Tower and the Nave originally opened into a Gallery and this is where the first organ was located. The present instrument is one of the few surviving William Davidson organs. It was installed in 1877. Originally it was constructed in the front left hand corner of the Chancel, but it obscured [Read on…]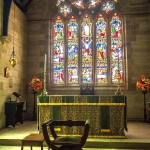 The beautiful East window was installed in 1871 in memory of Edward Charles Close who died on May 7th, 1866. The magnificent five column stained glass window represents, in the central spaces, the Last Supper, Jesus' crucifixion, and His Resurrection. These windows are crowned by a rose window, uniquely placed in an eastern church wall, [Read on…]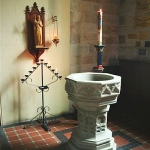 The Baptismal font was designed by Edmund Blacket and positioned in 1864 during the alterations. Next to it stands the Paschal Candle, a symbol of the light of Christ. The many memorial plaques in the church were moved to the Baptisrty in the 1980's.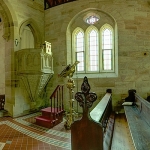 The unusual pulpit is a replica of the 13th century monastic lectern in Beaulieu Abbey, Hampshire. Originally a Cistercian foundation the abbey became, at the Reformation, the parish church of Beaulieu where William Tyrrell had been parish priest before his appointment to Newcastle. The meticulously cut stone was crafted by Daniel Yeates, a Maitland stonemason.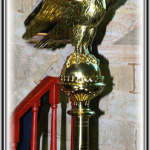 The Eagle is the traditional symbol of St. John, the fourth Evangelist, a sign that the good news of Jesus Christ is to be taken to the ends of the Earth. It is from the Lectern (lectio: Latin – Reading) that the Word of God is read, reflected on in the Holmily and prayed over in [Read on…]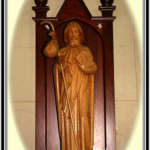 In the Baptistry is a wood carving of St. James, our Patron Saint. He is also the patron Saint of Spain, and legend has it his bones were found at Compostela in the N.W. of that country in the early Middle Ages. Pilgrimages from Paris to Santiago de Compostela still continue. James carries his staff [Read on…]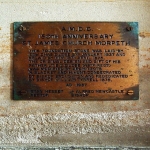 The foundation stone, located at the floor level near the Chancel arch, was laid by Edward Close, the 13 year old son of Lieutenant Charles Edward Close. He was 51 years old when he re-laid the same foundation stone once more when the church was rebuilt after the fire in 1874.
The beautiful old oak tree in the Church grounds was planted by Mrs Brown of High Street Morpeth in her yard, from an acorn picked up in Hyde Park London by her next door neighbour Mr Hill, whilst he was on leave during World War One, and was posted home to his wife to plant. [Read on…]