Prayer & Worship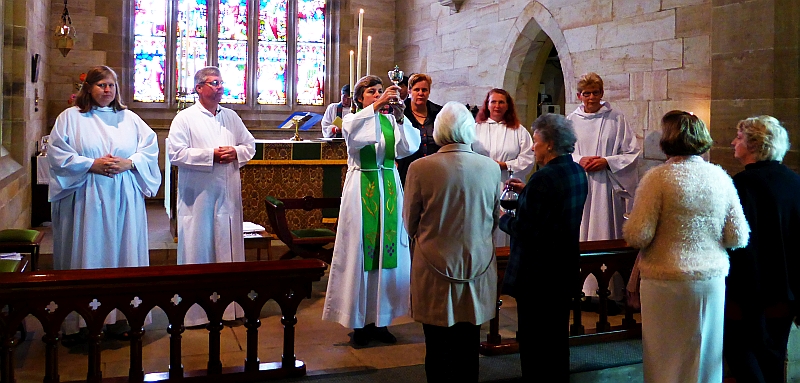 Communion
The central act of Christian worship, the Holy Eucharist, or Holy Communion, is the consistent practice of the Church linking us right back to the night Jesus was betrayed and given into the hands of the soldiers which lead to his crucifixion the next morning.
The meal itself seems to have followed the Jewish practice of the meal before the Passover, when they recalled the journey from slavery in Egypt across the Red Sea and through the wilderness into the land to which Abraham had come on another journey from Ur of the Chaldees.
This act is not simply something that we do, but in a real sense it is a defining sacrament, and some of the things we say here underline that for us.
We are the Body of Christ

His Spirit is with us
The Body of Christ keep you in eternal life

Amen
Take eat, this is my body given for you, Do this in remembrance of me.
Worship
Some people speak as if worship is all that the Church does, whereas the truth is that all that the Church does, is worship.
Yes we gather Sunday by Sunday at at other times, to hear the reading of scripture, to break the bread of life, and to come to terms with the eternal reality of God love, purpose and presence in our lives.
Yet everything we do, find's it centre in this purpose, and all we do, we do in service and offering. We visit the sick, care for the needy, teach the faith, and support one another, and all that we do we offer to God that it may be a blessing, and in that blessing we ourselves might also find blessing.
Lots of people who do not go to Church do good things as well in our community, and we would want to affirm and support them in this work. It is not that we do this better, or especially differently, it is simply that we do it in the context of our understanding of our relationship with God in Christ Jesus. In that sense it may be different for us, and we apprehend that difference in worship.
Evelyn Underhill said of worship
The adoring acknowledgment of all that lies beyond us — the glory that fills heaven and earth. It is the response that conscious beings make to their Creator, to the Eternal Reality from which they came forth; to God, however they may think of God or recognize God, and whether realised through religion, through nature, through history, through science, art, or human life and character.
Prayer
A lot of things make up prayer.
Please
Perhaps our earliest understanding to prayer is simply asking God to supply our need. Sometimes at its simplest this may be a kind of shopping list for God. As we grow in

faith

so we come to pray for others as well, not with a sense of entitlement, but an earnest desiring of good for others.
Thank You
Naturally enough we come to see, not simply that our prayers have been answered, but also that we are the beneficiaries of a generous and living God who has given us much. This sense of thanksgiving is part of our identity and the central pray in the liturgy is after called 'The Great Thanksgiving'.
Oops
This aspect of prayer recognises that we do not always measure up to our own expectations, let alone the expectations of the

Gospel

, and so we acknowledge our failing, leaving it at the cross and moving on to do better, not anchored to the past. You can;t have light without recognising the shadow.
Wow
Ultimately we find ourselves, amazed, and in awe, and sometimes speechless, sometimes listening, sometimes adoring, and genuinely amazed and the love of God embracing us. This is the kind of prayer that finds us lost on wonder, love and awe, This is perhaps when worships strikes the centre of our being.